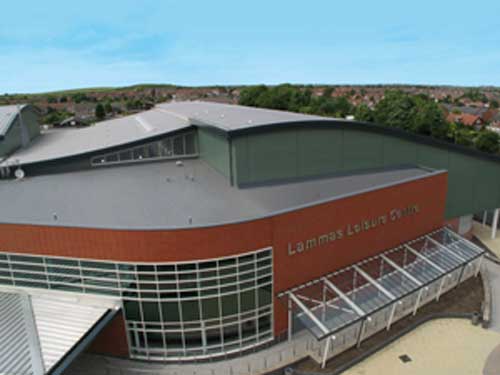 Description
Contract awarded to design, supply and install roof and cladding works to a new sports facility in Nottingham involving 2 sports hall roofs and a swimming pool roof requiring both acoustic and humidity elements of design and specification work.
Roof
4200 m2 AshZip 0.90mm thick aluminium standing seam curved outer sheet with a steel perforated liner to the sports hall roofs and a 0.90mm aluminium ARS coated liner to the swimming pool roof. Including all supports and spacers with insulation to provide acoustic properties incorporating Knauf RS60 slab and mineral wool insulation.
Walls
2000 m2 Kingspan KS1000 Mini Micro profiled composite panel outer colour Pegasus Green with an XL Forte white coating for high humidity building.